Our holiday house CASA ALOHA on La Gomera surrounded by palm trees directly with us privately rent ...
You will love CASA ALOHA,- because the house is located in the middle of a real small PALM OASE. The starry sky is sparkling beautiful. It is very quiet and relaxing, in this place you can hear your heart again. 
Our holiday home Casa ALOHA is located between Hermigua and San Sebastian on La Gomera.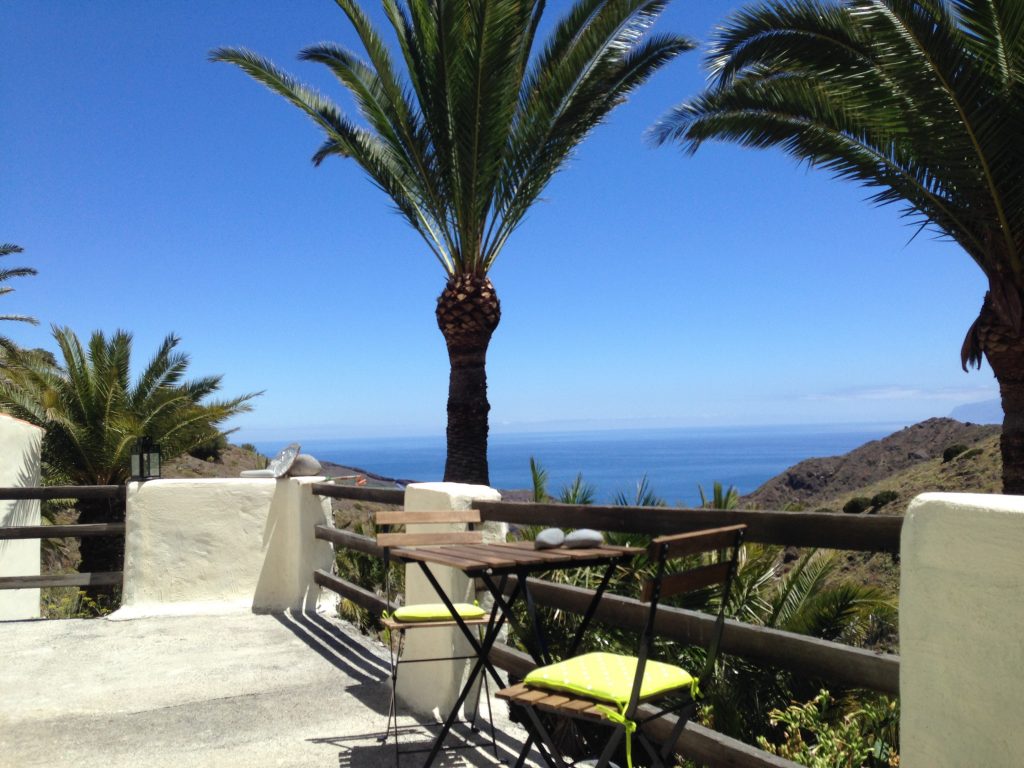 Casa Aloha La Gomera terrace.
From the terrace you have a breathtaking panoramic view of nature. Very close, at the palm trees you can hear the wind rustling and who looks out long enough to the sea will surely discover the dolphins or pilot whales sometime.....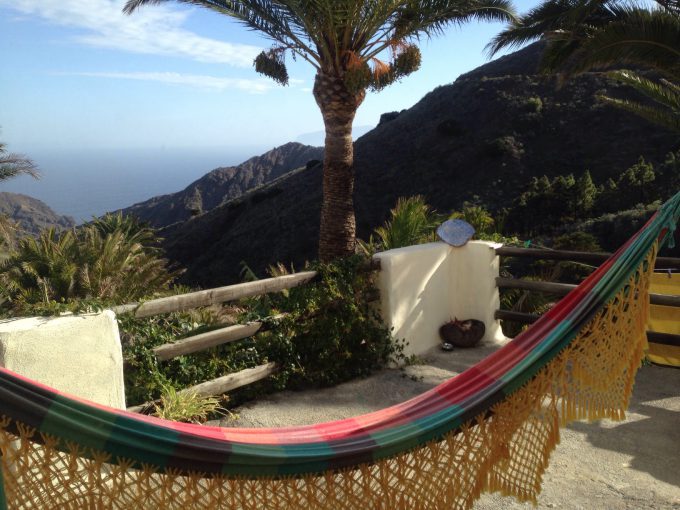 The terrace of Casa ALOHA has a deck chair and a 2-person hammock. Please do not argue about who is lolling where...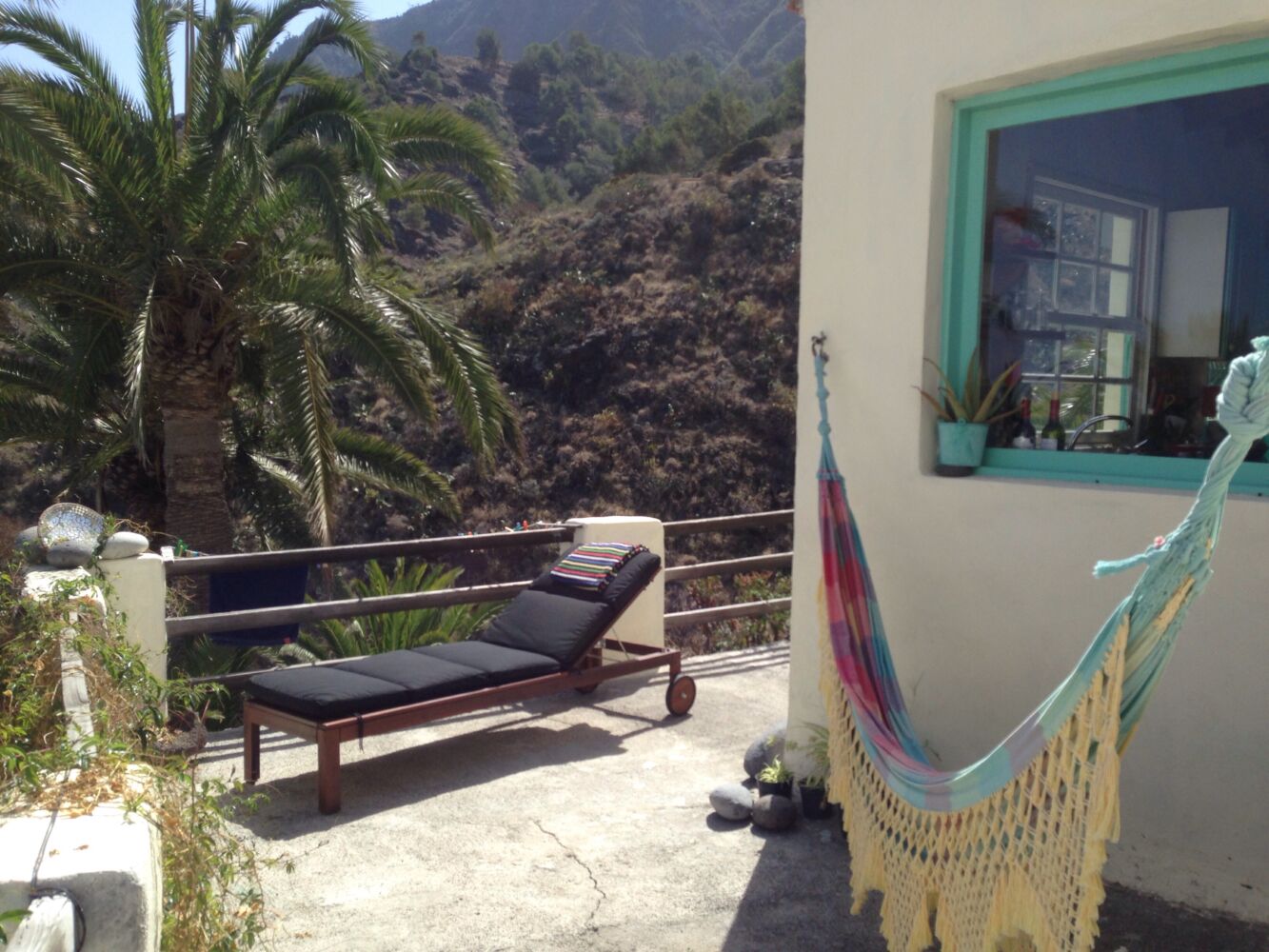 Von hier aus sieht man die Bergketten über dem Haus –  genau dort kommt die Sonne hervor – oder der majestätische Mond.
Ich denke immer an Ecuador oder Mexiko oder Hawaii… doch es ist das magische La GOMERA!  (yippie mein Zuhause)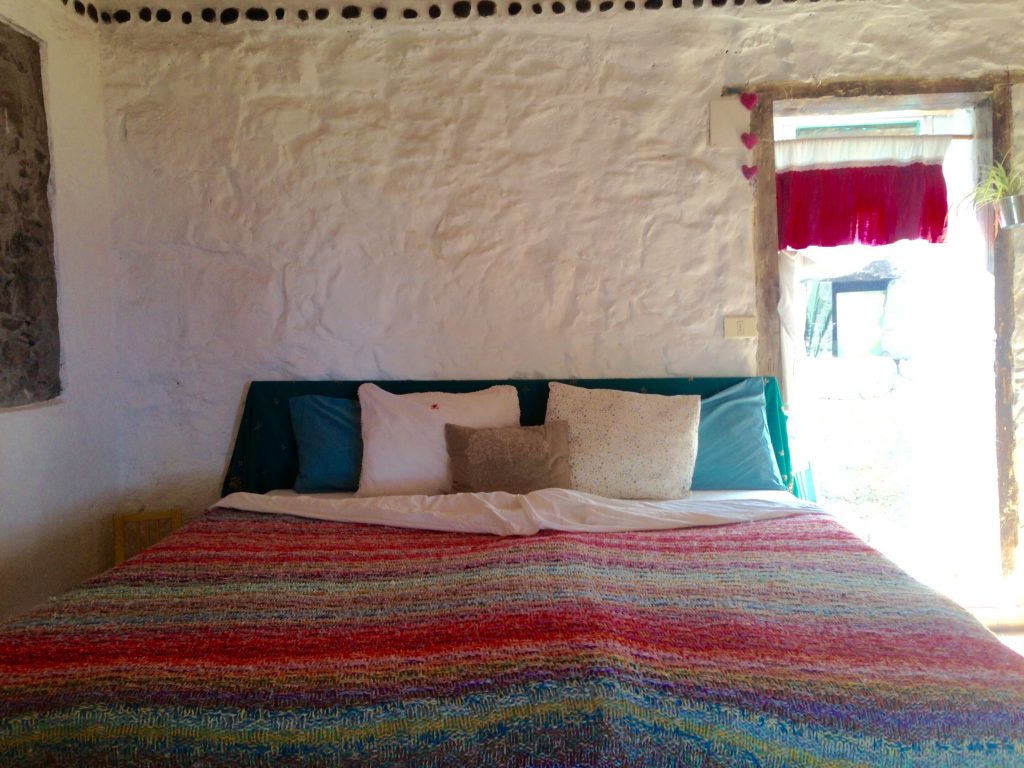 casa Aloha bedroom the bed is : 2x90x200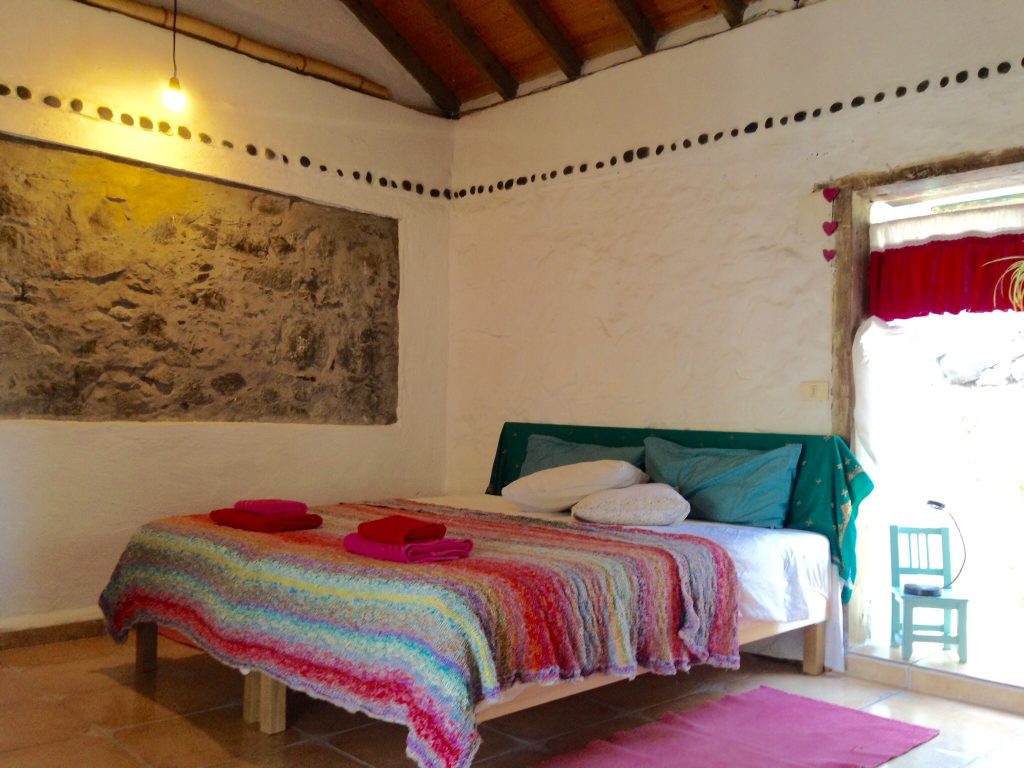 casa aloha ... real relaxed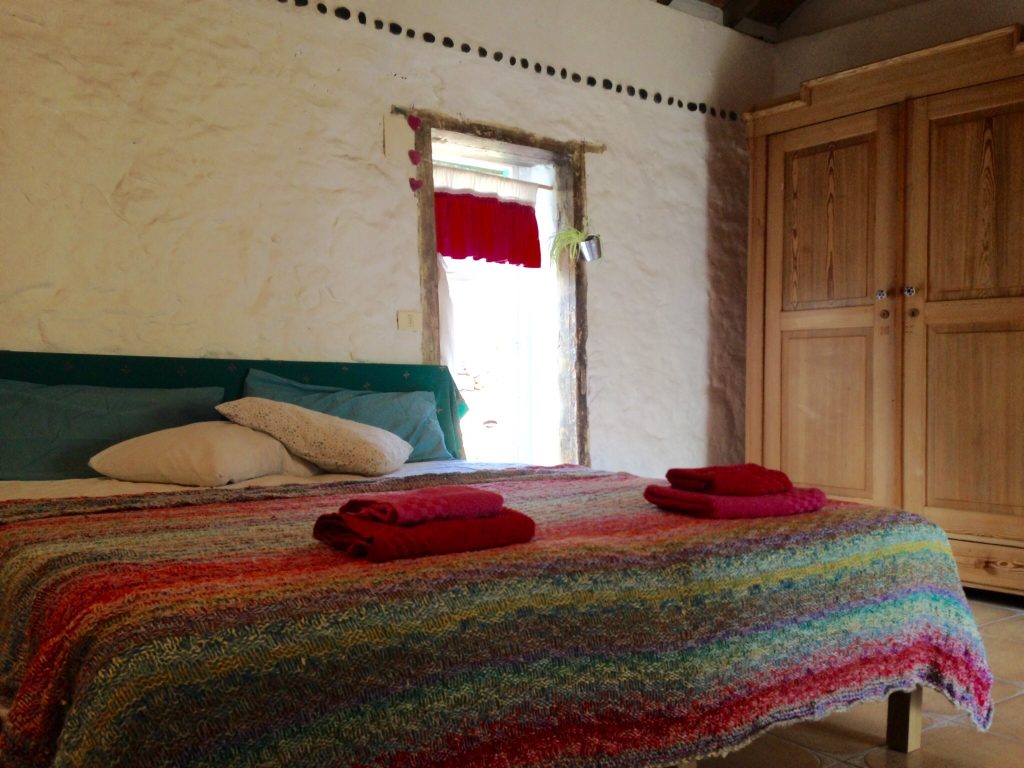 Casa Aloha Schlafzimmer
Our guests are all nature lovers - young or old - alone or in pairs, in groups or with the family.
There are no neighbours far and wide (except in the two other houses) because our finca is located near the nature reserve" MAJONA ". We find it wonderfully relaxed and so you can swing in the hammock all day long and watch the stars at night.
The house:
Casa Aloha is very lonely situated on our Finca Montoro about 7 km/20 minutes by car from the village Hermigua. It is an original Canarian stone house with 73m2 living space (bedroom/living-room/kitchen/bathroom/terrace), which was restored by and by ourselves.
There is a good new wood stove in the living room... you can fire it anytime you want: just to have it cosy to keep warm, in bad weather... or to spiritually light the fire of SOUL and LOVE... The men come in primeval trance to collect and chop wood. The women go back to their roots as free wild women - searching, collecting, carrying wood.
Then comes the fire making. Do you remember how to do it...this is also an art in itself!... I tell you: the more often you make a fire, the better it gets...
           "Indian heart know the way!"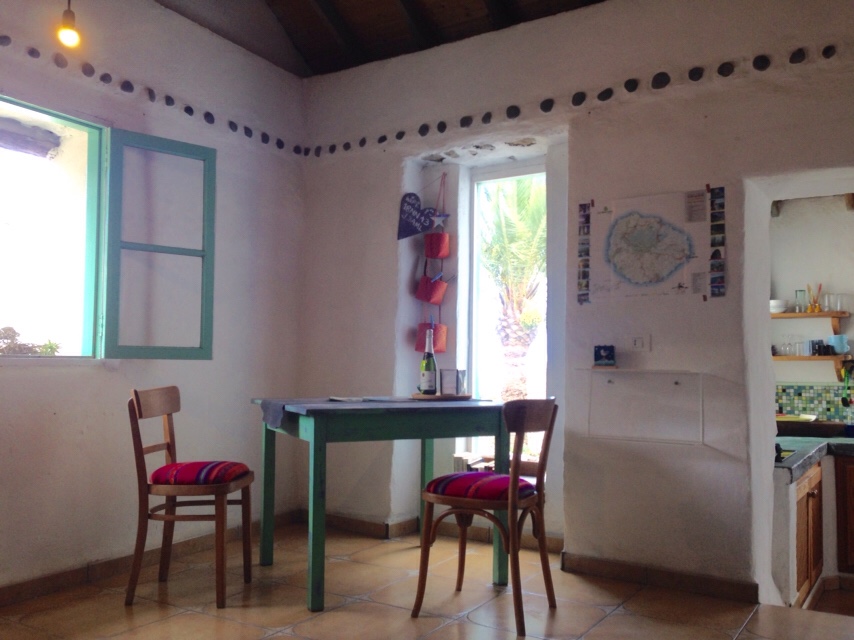 The CASA ALOHA has two equally large rooms made of thick volcanic stones. On the walls we have built in small stones from the beach as decoration. I think one sleeps really well in this house..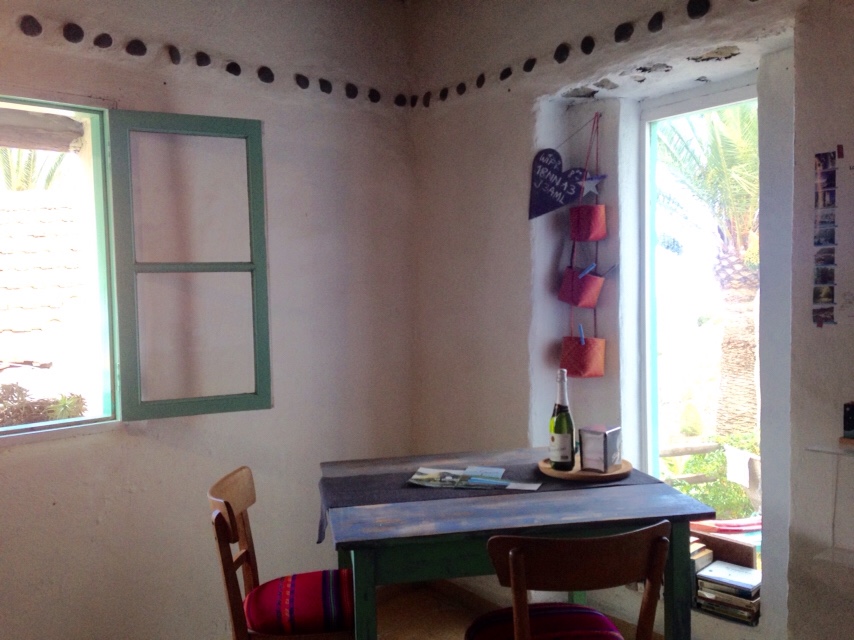 The furniture are old antique pieces or really selfmade creations. All our houses are powered by our own SOLAR POWER! That is why we are looking forward to guests who consciously avoid it.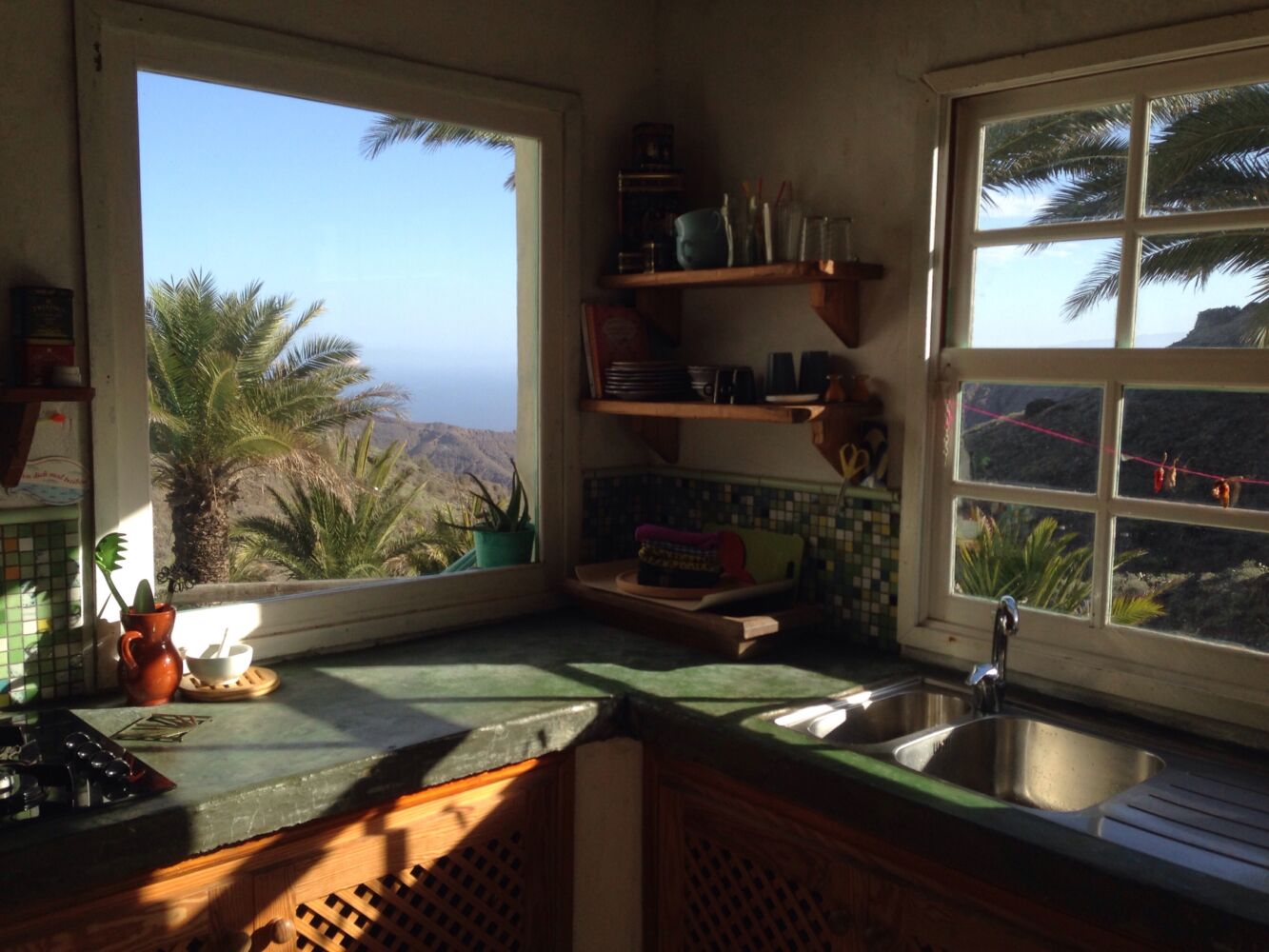 The kitchen offers, enough Space to be creative while cooking for yourself, with priceless ocean view.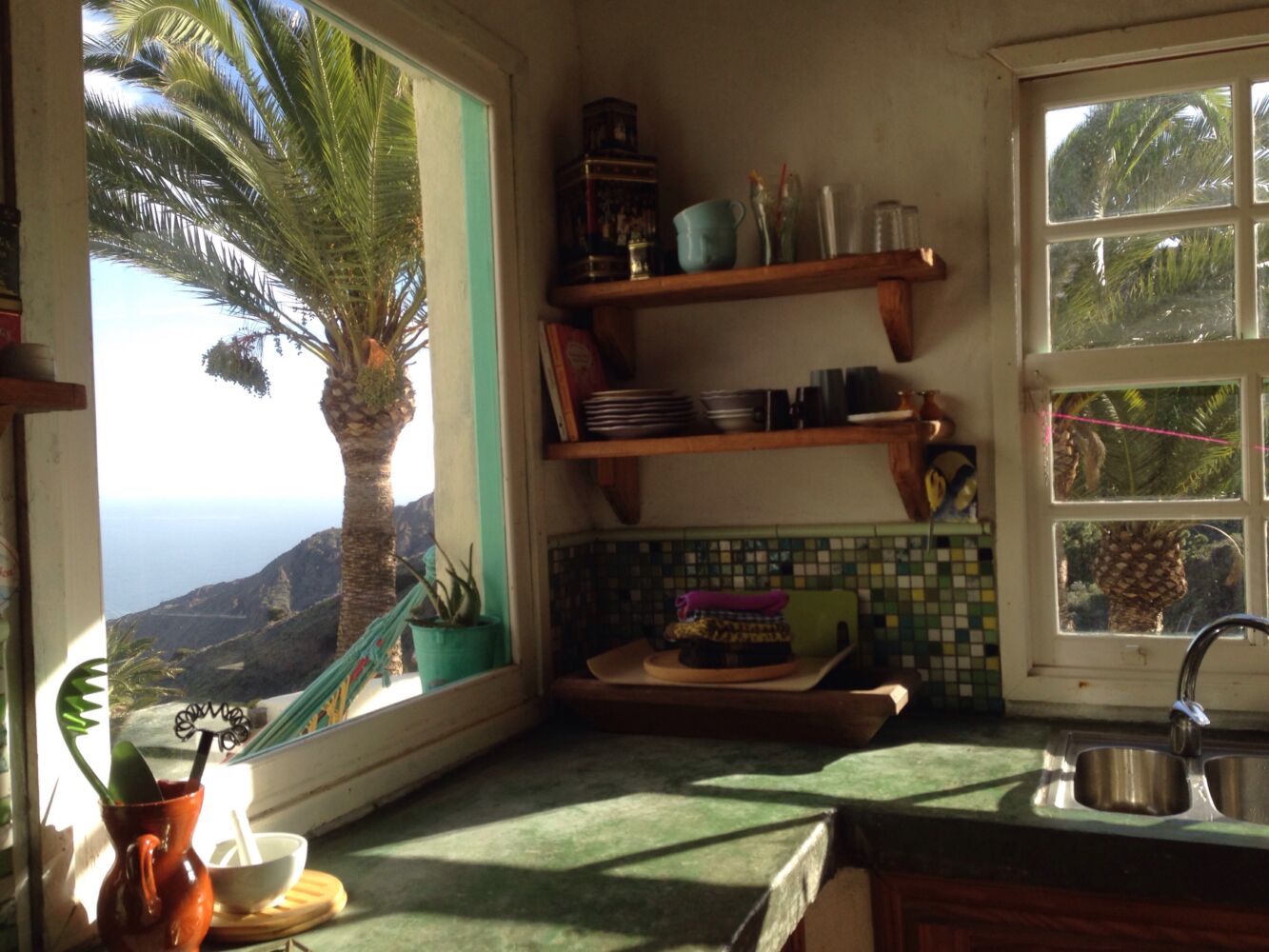 The kitchen of CASA ALOHA has a super good four plate gas stove and many of our guests are happy to cook with this gas stove during their holidays - it is a huge difference to cook with a real fire flame. It is fun - it gets really hot immediately and the typical Canarian-Spanish dishes get their real style!
SEIT 2021 Könnt Ihr direkt bei Txus eure PAELLA PRIVADO bestellen.Sie wird exclusive für euch gekocht und auf der Terrasse von casa Aloha serviert…meldet euch rechtzeitig an.         
  Of course, we show everyone who wants to know how MOJO ROJO or MOJO VERDE is made in the wood mortar. To do this, you first hang hot fresh chilies on the window to dry.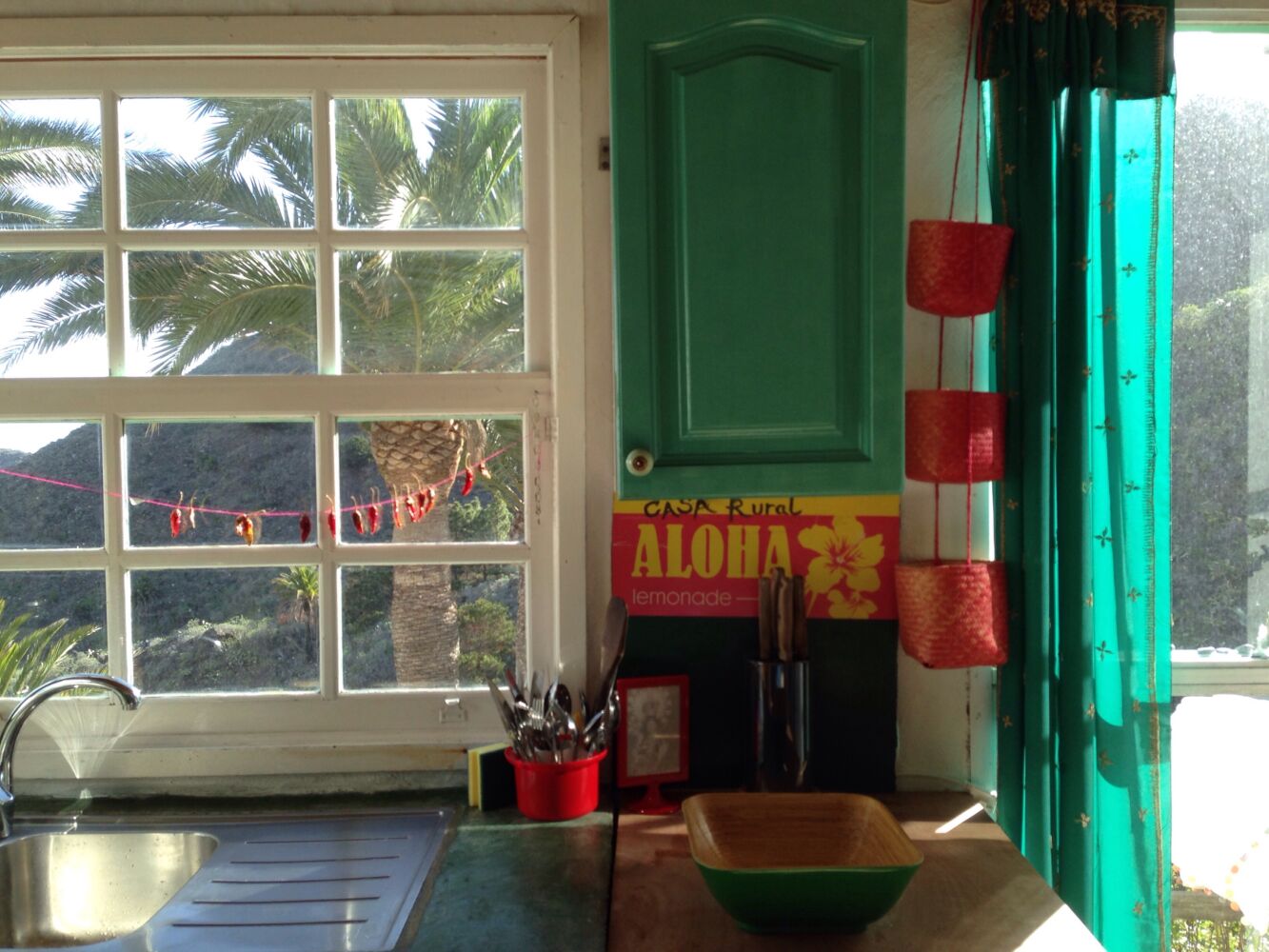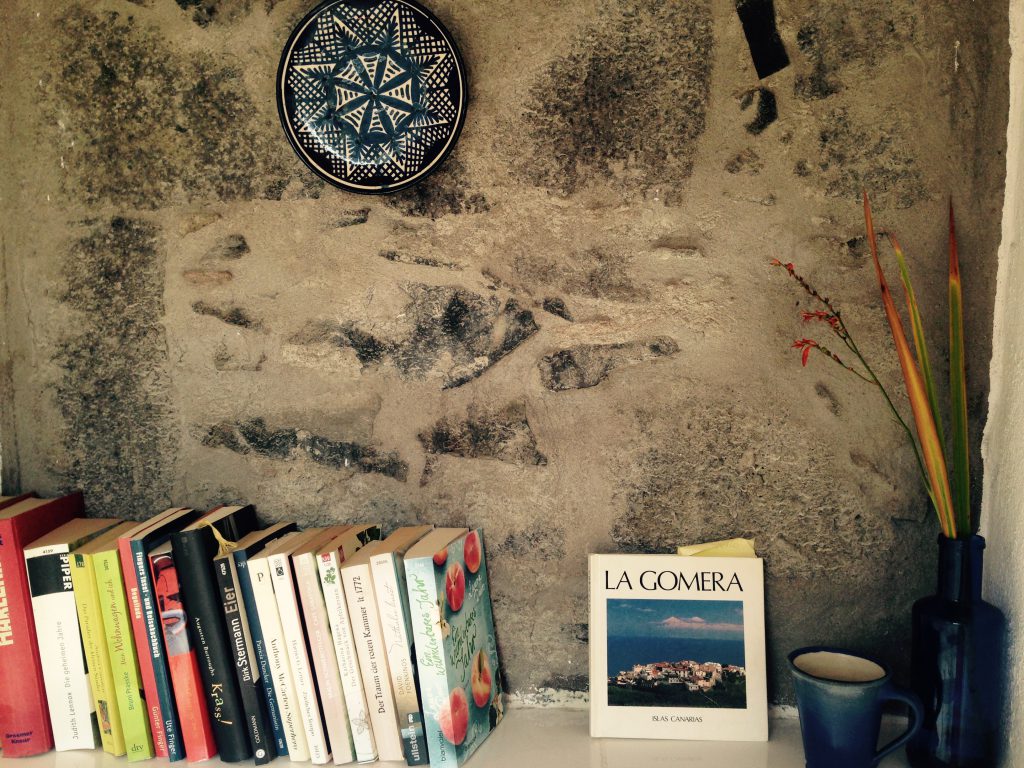 casa aloha La Gomera
It is a special place for special people. Like you.. 
Towels & bed linen are changed once a week or at any time on request.
We wish that every guest will have a good - unforgettable holiday with us.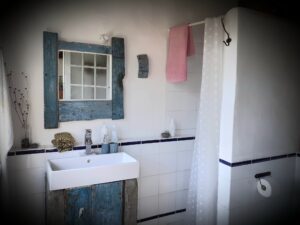 CASA ALOHA is located on a large plot of land in the unspoiled nature of La Gomera(HERMIGUA) where all areas can be used. Sitting between the palm trees on the large volcanic rocks, swinging in the hammock in the shade. Watching the clouds in the sky & listening to the wind in the palm trees. Read books, gaze at the stars, watch birds and lizards. Gekkos frightensnSleeping like a bear...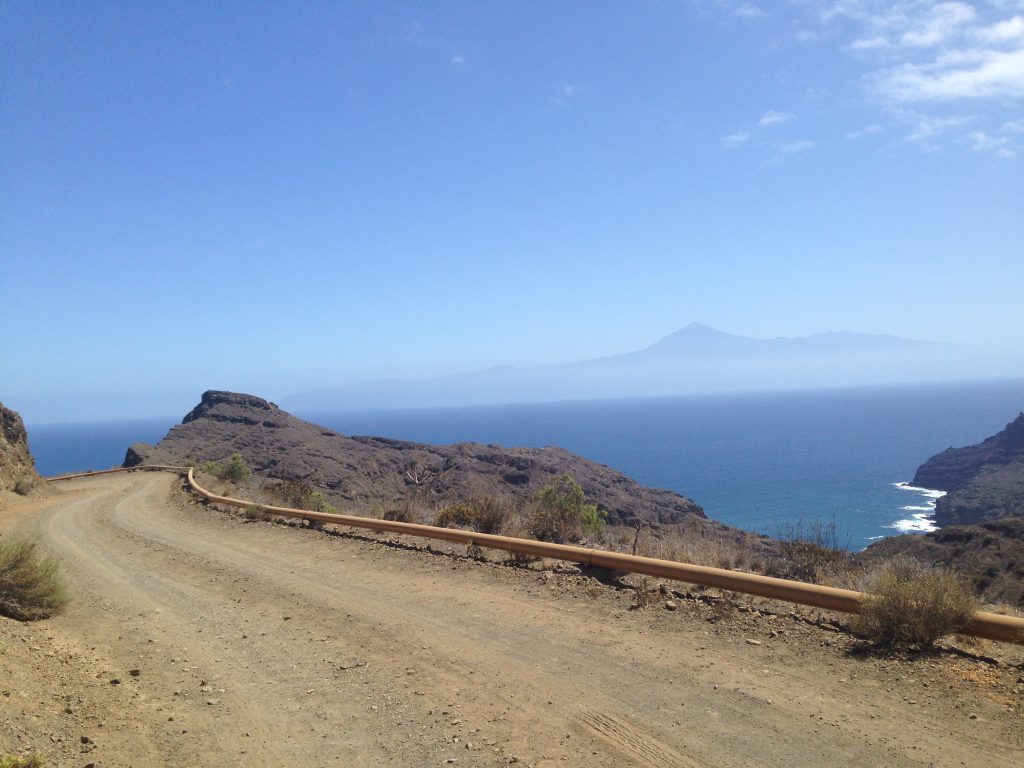 Der Weg zu uns – Dein Ziel…
CASA ALOHA is located in the nature - that's why you have to drive from Hermigua about 7 km - 15 minutes by car on an unpaved road! earth road.
On foot you would walk approx. 1,5 hrs. with view to the sea and to the island Tenerife with the "EL Teide" in the background very beautiful !
The best way to get there is in a MIETAUTO, so you can easily explore the rest of the island Four different hiking trails lead to the finca or start directly at the front door. If you want to come without a car, we can pick you up.
HOUSE REGULATION:
...
* Internet/Wi-Fi is available for normal consumption.
We point out again at the very end: that our finca is located in the nature reserve outside of Hermigua all alone, and you drive on an unpaved earth road about 15min. It is very dark in the night! Because there is ABSOLUTELY NO street lighting all around!
Okay, there are the other two houses nearby. So not by yourself!
Would you like to enjoy a relaxing holiday in this house, then just write me or give me a call.
Until then ... good luck ...